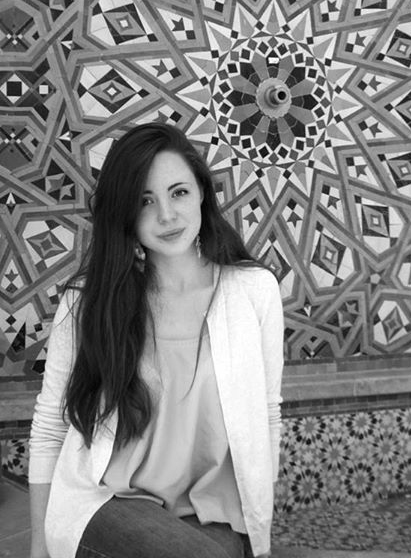 Name: Irène Delaney
Class Year: 2016
Internship Placement: I'll be interning at Casamémoire, a Moroccan NGO dedicated to preserving and raising awareness of Casablanca's rich architectural legacy. I'll be researching more about the city's history and, primarily, finishing the translation of their book from French to English!
What's going on? We'd love to hear how your internship is going!
This internship is a little unorthodox, in that I am working from home (in the U.S.) for an NGO in Morocco and in that I actually began my project last summer, over there. My principal task is to complete the translation of a book from French to English; this is a hefty but extremely rewarding job! The book is a guide to the 20th-century architecture of Casablanca, but its content stretches back to the 1300s when the city was a small medina on an Atlantic port. Between the two, the modern cosmopolis was influenced by waves of migration, Islam, autochthonous Berber culture, the Arab conquest, colonization by France and Spain, and a period of 20th-century architectural experimentation, the focus of the book. I'm more familiar with some of these subjects than I am with others, so in complement to the translation, I've been doing research according to a thematic bibliography. At the end of the summer, I'll also compose a brief note analyzing my own translation, to be included at the end of the book. Finally, at the end of 2015, the English edition of this book will be released and I will be a published translator!
Casamémoire itself is a Moroccan NGO that aims to preserve, restore, and raise widespread awareness of the rich architectural heritage of the city of Casablanca. Nationally, it does a lot of multilingual awareness-raising campaigns, tours, and events that help Moroccans of various descent understand their roots and their homes and significantly enrich Casablanca's tourism sector. With its global, governmental, and cultural partnerships, Casamémoire unites scholars, students, artists and architects, tourists, and the general public around a common vision: the continuation of Casablanca's legacy as a city of importance, beauty, progress, tradition, and cross-cultural dialogue. But Casablanca's rich history should not suggest that it is a city of the past: as Morocco's economy and political clout continue to develop and Moroccan culture is increasingly admired around the world, its largest city stands firmly in the spotlight. This gives cultural organizations like Casamémoire a platform to redirect public gaze towards the city's past, and what better way to reach global audiences than to widely translate its work? They have worked with Arabic and French editors in the past, but English is a new branch for them, and that is where I come in.
How I heard about my internship:
I spent time in Morocco and interned with Casamémoire last summer, but the nature and extent of my work were quite different. At a time when my summer internship plans seemed to be faltering, I heard back from them about the continuation of the project I had begun last July. I loved the work I had been doing, so I was eager for this opportunity to — through LILAC — expand the scope of my knowledge and finish the translation.
Why I applied for my internship:
Not only do I enjoy translation and cherish Casablanca; I love the way that this internship fits into the larger organization. I admire Casamémoire's mission more every time I hear about a new project of theirs; this is why I initially chose to work with them last summer. Furthermore, while my official major is Francophone Literature, my real academic and personal passions lie in the Maghreb and in Morocco, and this internship has been a means for me to dive into another pool of Moroccan cultural history. As I prepare for a career centered on language and Morocco, I can think back to this experience and remember how happy I have been to work at this kind of NGO. In the future, I'll surely gravitate towards similar jobs, where the context of my translations can fascinate me and where I will be able to serve a cause I consider to be noble — the increased accessibility to culturally educative media and the subsequent preservation of North African history.