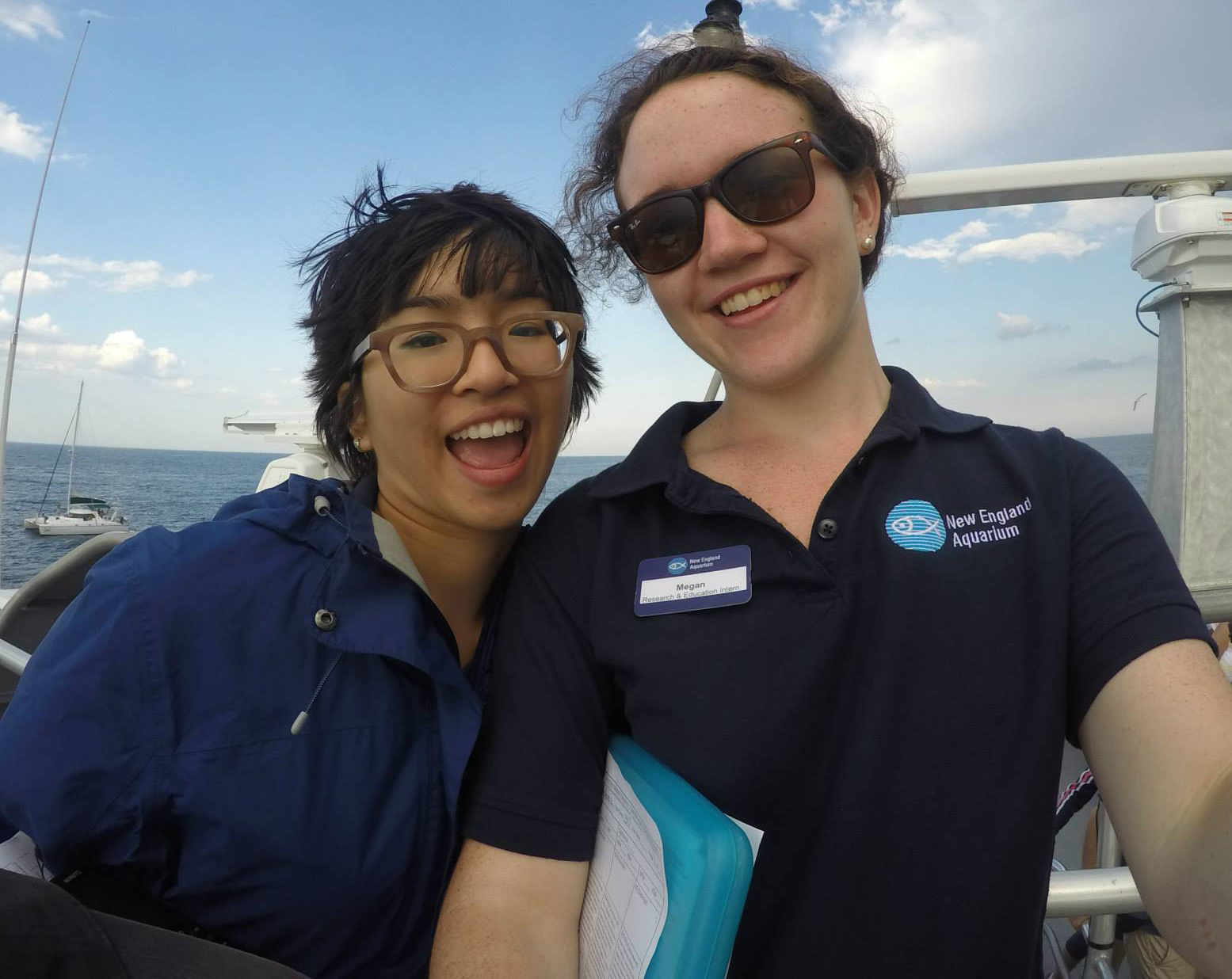 Name: Ann Tran
Class Year: 2018
Research Placement: Working with Laura Howes at the New England Aquarium.
What's happening! We'd love to hear about how your internship is going.
The internship has been going swimmingly! I have learned so much, and I continue to learn more. I hang out mostly on the waters by Cape Cod in Massachusetts at an area called Stellwagen Bank, which is an underwater plateau only about 100 feet deep. Here, humpback whales, as well as minke and fin whales, congregate to feed. Through the New England Aquarium and Boston Harbor Cruises, I assist with data collection and education on whale watch boats!
The title of my internship is a Marine Mammal Education and Research Intern at the New England Aquarium, so it is twofold. The first is the education aspect. Every trip, I come around and answer questions, bring around whale artifacts such as vertebrae and baleen (a filter device for whales), and simply educate passengers. This education can be on how whales sleep, to what research is being done on the whales, to what measures they can take to be more environmentally aware for marine life and beyond.
The second aspect is about the research. On the vessels I do an array of data collection projects. One is collecting marine debris coordinates, observations, and more. Another is studying if there is a correlation between windy weather and greater humpback whale surface activity. Another catalogues all of the identification photographs the naturalist is taking when the boat is 'on' (approaches and stays with) the whales. Finally, I record all of the whale sightings, the names of the whales, their behaviors, the weather conditions, and the GPS coordinates. It's a lot, but after a while, there is a certain rhythm that you ease into with data collection.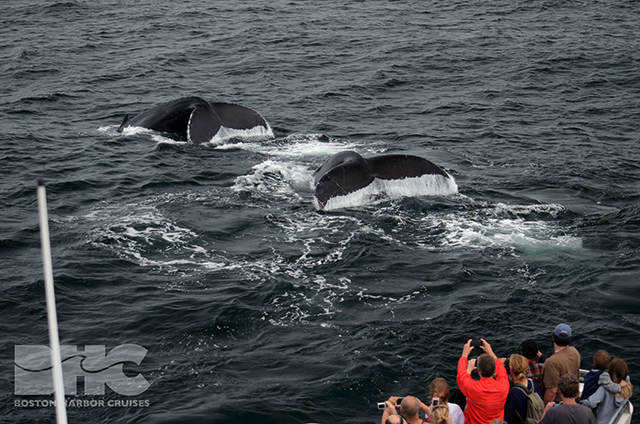 As you can see from the photos, it's really awesome! I've learned so much about a really special niche in environmental studies. I've also gotten to meet many awesome folks, such as the other interns for the whale watches and the vast network of New England Aquarium Alumnae.
Why I applied for my internship:
I thought, why not. Though I intend to be a computer science major, I have always wanted to practice researching. With internships, I have always gotten the encouragement to try something outside of the box.
Through the New England Aquarium, I had the opportunity to do so. I've never been out on the water for more than an hour, and I had no knowledge of whales going in. It was a once-in-a-lifetime opportunity that I will always look back to with joy.
Although I do not expect to be a whale watch naturalist any time soon, I learned through the internship that I deeply enjoy educating and talking to patrons on the boat. In the future, this could very easily translate to a job that involves communicating with clients or with philanthropic causes for communities. I also realized that I was less interested in the research though I enjoyed it.
This unique experience provided me a better ability to hone in on what I want to do and what I love in the future.