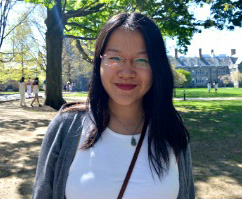 Name: Yuyan Ji
Class Year: 2016
Internship Placement: I will work as a marketing intern at Boston Language Institute in Boston. My job includes but is not limited to making marketing strategy, planning marketing activities, and social media content writing.
What's happening? We'd love to hear how your internship is going!
I have been working at The Boston Language Institute for four weeks as a social media marketing intern. I got this opportunity because I did an externship in the Institute last spring and, since then, kept in touch with Siri Karm Singh Khalsa, the president of the Institute and a Haverford alumnus. The Institute offers foreign language classes, English as second language classes, English teacher training programs, translation services, as well as cross-cultural seminars for companies and governments doing business internationally.
So far, my job is comprised of conducting market research, making a social marketing plan and managing the social media accounts of the Institute. The ultimate goal of the internship is to create a social media marketing strategy that will continue to serve as the guideline for the Institute's social media marketing activities after my stay.
Besides other activities, I analyze the enrollment data over the years, which involves some basic excel skills. I also design online surveys that ask students for their expectation and alumni for feedback. I like this research part a lot probably because I like to understand people's needs and wants and to maintain a good relationship with them over time. In addition, as I manage the social media accounts, I take pictures, write posts, repost, and study the "insights" that those websites provide in order to find some regularities behind the seemingly unpreventable "likes" and "unlikes."
More about work and the working environment: Although I'm working on marketing, I occupy a desk in the office of English as Second Language Department, which means I'm always surrounded by a group of English teachers who are more than used to getting along with foreigners or immigrants still acquiring the English language. No one seems to be bothered by my English and are all very willing to answer my questions. Big bonus! And even more, almost everyone in the school is a language person! We're just fond of learning languages (which should not be surprising in a language school, haha)! I could easily switch to Spanish with almost everyone in the ESL office, and not even to mention the foreign language teachers that are more than willing to teach you a word or two during lunch break! In this aspect, I truly enjoy this international, open-minded and culturally diverse environment.
Some thoughts on the 9 to 5 schedule: It's a little hard to adjust to a fixed schedule. especially after vacation and just physically tiring to sit by the desk for most time of the day. In the morning I often have some plan for after work, but many times I just feel so tired after a day at work that the only thing I want walking out of the building is to lay in my bed. Maybe it's not for me, or maybe I'm just too used to a slouchy life. The good side is that since I always have to think about tomorrow, I'm forced to keep a sustainable schedule on weekdays: no stay up, no late night movie, always leave time for a shower in the morning, always intend to prepare lunch for the next day, etc.
So, while sincerely missing the dining services at Bryn Mawr, I do feel like a working adult sometimes. And I can't help imagining how my mom, when I was younger, managed to cook a big dinner at night for the family after a whole day of work and why, subsequently, we often had left-overs… It's hard to be a working woman, not even to mention being one while taking care of (the food of) the family. Also, I now understand why my mom can't just say no to her boss when asked to stay late for a meeting — she just can't. Also, on why she often works on weekends when to me it's time for fun and life: it's because of the desire to achieve, to grow, to create meaning of life by excellent work.
Life: I sublet a room in a student apartment right near the Museum of Fine Art. I mostly walk, and occasionally take the subway to work, both of which take about 20 minutes. Yet recently I found a great bike renting system in Boston, and have registered to be a member for a month. So since this week I've been walking and then biking to work, shortening the time of commute to 15 minutes one way. I biked to Charles River today at sunset.
At the official middle point of the internship, I look forward to reflecting on the first part of it, optimizing learning opportunities of the second part and of course, taking the chance to explore Boston!