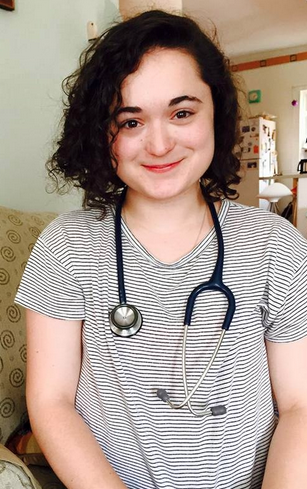 Name: Amelia Brady-Cole
Class Year: 2016
Internship Placement: I'm working with two homebirth midwives in Boston, MA.
What's happening? We'd love to hear how your internship is going!
This summer I'm interning with two homebirth midwives in the Boston area. I assist them during prenatal and postpartum appointments and at births. I've been trying to decide if I want to practice midwifery in a hospital setting or at home for several years now. Working with these midwives and getting to know their practice has helped me make that decision. Unlike in hospitals where most appointments can last no more than 20 minutes, these midwives have the freedom and the time to spend an hour or more with each client. They build meaningful relationships with the women they serve, which makes for a relaxed and empowering birth experience. I can't imagine providing maternal healthcare any other way.
How I heard about my internship:
I worked with doulas and nurse midwives in hospitals last summer, and so I've built a great network of birth people in the Boston area. By doing volunteer work last year and by getting recommendations from people who now know me well, I was able to secure this internship with two of the most well-known and well-respected midwives in the area.
Why I applied for my internship:
I've known that I wanted to be a midwife since I was 12. Over the last few years I've gotten experience in different settings and I've realized what kinds of birth practices resonate with my own beliefs and values. The most important reason I'm drawn to midwifery is the opportunity to be an agent of women's empowerment. Our culture teaches women to fear birth and to distrust their bodies. The care provided by the midwives I'm working with this summer teaches the opposite: that women are strong and smart and that birth can be a beautiful and empowering experience for all involved. I'm so fortunate to be working with these midwives. They inspire me daily and I couldn't be getting better exposure to the field I will soon be working in.